Regular price
Sale price
$88.00 USD
Unit price
per
Sale
Sold out
Share
Indulge in a sacred gift from the Earth that enhances relaxation and well being. Made with a blend of certified pure Himalayan salt and Hinoki essential oil. Made with with a mix of three different sizes of salt crystals for longer lasting hinoki aroma.
Unblended Hinoki essential oil emits a

soft woody aroma and hint of citrus

Hinoki is naturally antiseptic and antimicrobial 

Himalayan Salt has healing minerals that soothe aches and soften skin

No petroleum, sulfates, silicon or other artificial additives
Net Wt. 24 oz
Made in USA with imported ingredient.
Ingredients: Certified pure Himalayan salt, Chamaecyparis obtuse (Hinoki) essential oil
Directions: Add 1/2 cup of salt (fill the cap about 80% to measure) to warm running water. Relax in bath at least 20 minutes for optimum experience. Close tightly to keep salts dry and aroma fresh.
*For increased relaxation and to enjoy aroma, try soaking a wash towel in your salt/hinoki bath, squeeze out excess water, and lay it on the face while soaking in the tub.
Hinoki Japanese Essential Oil 
Relax and refresh in the warm woody aroma of Hinoki essential oil. Breathe in and experience tranquility through the oil's clean, soft citrus notes. Valued for its fragrance, beauty, and therapeutic properties, Hinoki has been used in the construction of temples, shrines, and baths in Japan for centuries.
Himalayan Pink Salt
All natural and certified pure fine food grade. Himalayan Pink Salt, naturally rich in minerals and elements, is easily absorbed and utilized by our cells. It helps restore minerals in the body, as well as soothe aches and pains, and soften skin. The extra fine grain allows for easy dissolving in warm water. Learn more
View full details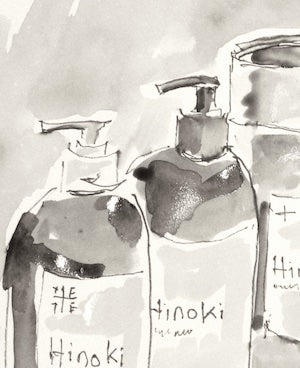 The HINOKI Collections are made from the essence of the tree of life. The aromatic essential oils of Hinoki wood are incorporated in a sensuous and soothing way. All products are produced in small batches, using only the highest quality natural ingredients.
SHOP HINOKI